PROTOCOL SIGNED BETWEEN CAL FIRE AND AGIF
On April 25, 2022, the collaboration protocol between the California Department of Forestry and Fire Protection (CAL FIRE) and the Agency for the Integrated Management of Rural Fires (AGIF) was signed. This partnership stems from the official visit of the Prime Minister, António Costa, to California in 2018 and now formalizes the opportunity for cooperation then envisaged. Given the similarities of the Mediterranean climate, vegetation and challenges in preventing and suppressing rural fires, the two nations are bound by the purpose of sharing competences and resources, in the areas of planning and decision support, models of predictability and risk management, as well as in the management of the own aerial device, training and formation of prevention and suppression teams. Henceforth and under this protocol, the entities of the Integrated Management System of Rural Fires (ICNF, ANEPC, GNR, FAP, EMGFA, PJ and IPMA) among other partner entities, public and private, can access and share knowledge in the area forest management, urban interface, fire prevention and suppression.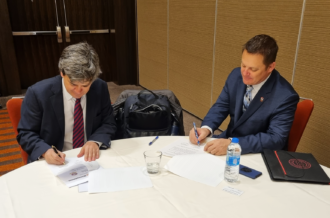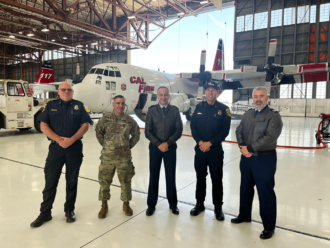 Under this protocol, two senior officers of the Portuguese Air Force went on a working visit to the Aviation Program (CAL FIRE Air Unit) facilities in Sacramento, California. Here they visited the Training Center for the crews responsible for the aerial component of firefighting and also learned about the maintenance and preparation procedures for direct and indirect firefighting aircraft. During the afternoon, the explanation of the formation system of the land and helitransported brigades was deepened, where Portuguese partner entities (ICNF and GNR) were also present, in online format.
During this trip to the USA, the delegation participated on the 25th and 26th of April in the Wildfire Management Summit (reflection meeting of Californian fire chiefs) with the aim of promoting the exchange of experiences and knowledge in the detection and management of fire suppression, AGIF shared the changes introduced in Portugal since 2017. A presentation was also held on April 27 at the University of California, Berkeley, promoted by the Center for Portuguese Studies.
The visit took place with the special support of the Portuguese Consulate in San Francisco, through its Consul, Pedro Pinto.
 About CAL FIRE:
(https://www.fire.ca.gov/)
CAL FIRE is dedicated to fire protection and the promotion of vegetation management in California's territories (26Mha) to over 40 million inhabitants. This California department has developed an Integrated Fire Management Program that includes activities such as pre-fire engineering in forest areas, vegetation and fire management, public awareness and education, and law enforcement.
Wildfire Management Summit 2022:
(https://www.idga.org/events-wildfiremanagement)